Aluminium Double Sided Ladder (Standard Used) 6 Steps (WDS 6)
Ladder Material :
Aluminium
Working Load

: The maximum load that a ladder is designed to bear.

:

130kg
Shipping time: Within 3-5 working days
Delivery coverage: Nationwide
To get the best offer price and to check on the stock status, kindly contact us by clicking one of the buttons below!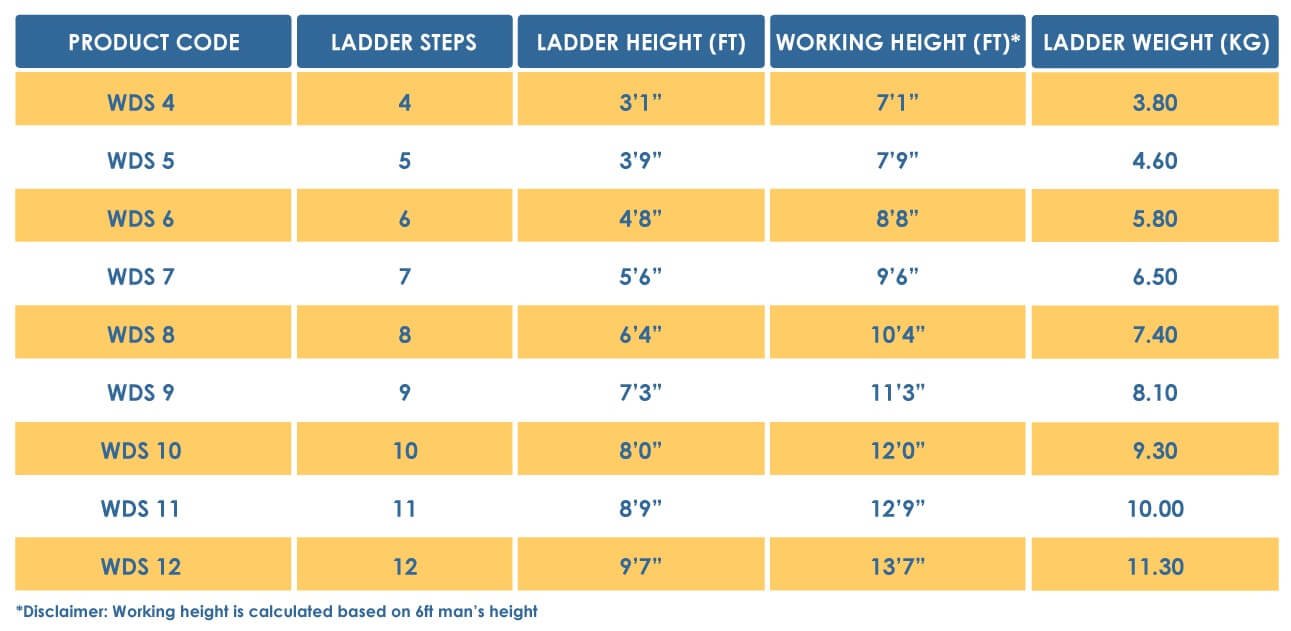 Winston Double Sided Ladder (Standard Used), WDS series is a heavy duty ladder with working load of 130kg. It's aluminium top landing with yellow colour rubber end cap to enhance safety. It's top three yellow alert steps to guide user it is unsafe to step on. Inner spreader hinge to protect user from injury while ladder in used. The steps are slip resistant and the bottom ladder is fitted anti-slip rubber shoes.
Available Steps
Type of Ladder
Ladder Shape Mode
: 4, 5, 6, 7, 8, 9, 10, 11 and 12 Steps
: Aluminium
: A Shape
Top Landing
Steps
Spreader Hinge
Feet
: Aluminium with yellow colour rubber end cap
: Anti-slip
: Inner
: Rubber shoes
Additional information
| | |
| --- | --- |
| Weight | 5.80 kg |
| Dimensions | D 152.9 x W 54.0 x H 13.0 |
| Ladder Steps | |
| Ladder Height (mm) | |
| Ladder Material | |
| Type Of Ladder | |
| Usage Purpose | |
| Working Load (kg) | |
| Ladder Weight (kg) | |
| Storage Height (mm) | |
| All Height | |